What is the Ave Maria prayer?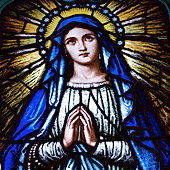 The Ave Maria prayer, or the Hail Mary, is the primary prayer of each decade of the Rosary and is chanted ten times in each segment of The Rosary for World Peace.
The Ave Maria prayer features two salutation verses to Mary from the Book of Luke in the New Testament Scripture: the Angel Gabriel's greeting to Mary before she conceived Jesus and Elizabeth's acknowledgment of Mary's bearing of the prophetic Messiah. The current form, including the response for the prayerful intercession of Mary, emerged during the sixteenth century.
Hail Mary, full of Grace, The Lord is with thee. (Lk 1:28) Blessed art thou among women, and blessed is the Fruit of thy womb, Jesus. (Lk 1:42)
Holy Mary, Mother of God, pray for us sinners, now, and at the hour of our death. Amen.
---
The Glorious Mysteries:
The Ascension of Jesus
Aria – Mary
Thine, O Lord,
is Magnificence,
and Power,
and Glory, and Victory:
and to Thee is Praise:
for all that is in Heaven,
and in Earth,
is Thine:
Thine is the Kingdom, O Lord,
and Thou art Above All Princes.
(1 Para 29:11)