Creative Approach
The Rosary—a beaded prayer meditation that originated in the ancient monk's Psalter—is the template of this new, interpretive work.
Four Performances with Dueling Choruses: The glorious saga will unfold in a series of four epic, musical theatrical performances with dueling choruses:
Each performance will feature five prominent events in the lives of Jesus Christ and His mother, Mary, portrayed in five movements. The drama will feature a host of beloved biblical characters, supported by three choruses: the Angels of God, the Rebellious Angels, and the Community of Saints.
The Scripture will come alive as it is sung in dynamic mini-dramas that progressively reveal the Divine Presence and power of Jesus Christ. He teaches His Way of Peace—despite growing opposition. An epic orchestral score with glorious choruses and leitmotifs will lead the audience on an exciting journey through mystical time and space.
Spectacular projected lighting animations of star fields, thousands of angels, and mystical effects, together with video mapping and sound design, will provide an immersive audience experience.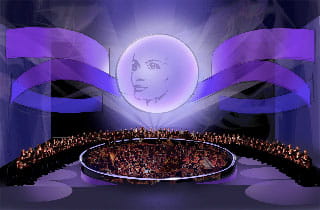 Musically, neoromantic tones will form the palette for the beautiful, lyrical compositions. The rich poetic text will be accompanied by sensitive musical expressions to draw forth sub-themes of love, anguish, deep sorrow, and joy, while sharp recitativos will punctuate the drama in clever word plays. Mystical polyphonic choruses will provide a supernatural cocoon of sound, effectively wrapping the escalating drama within a sacred context.
The beautiful tonality of the piece will also provide a bed of music underlying the meditative intervals of the New Testament segments. Twenty languages of the world will be interwoven, forming the first part of the repetitive Ave Maria prayer sequences.
The languages will provide a texture to the drama, as well as a global resonance. Latin will be used throughout as a consistent, unifying element in the Ave Maria choral responses. The combination of the representative languages and the Latin choral responses will provide for a uniformity of tone, while creating an interesting palette of human expression.
Ideally, the audience will participate in the performance, breaking the fourth wall of the stage, by singing in the mediative portions and playing the role of the Community of Saints. By incorporating engaging theatrical technologies, the audience will be immersed in a cathartic, exciting, experiential performance.
The Joyful Mysteries:
The Visitation of Mary to Elizabeth
Duet – Mary and Elizabeth
O Magnify The Lord with me;
Let us extol His Name together.
(Ps 33:4)
Generation and Generation
shall Praise Thy Works:
They shall declare Thy Power.
(Ps 144:4)